You are here: Home > Message from Constantine A. Stratakis, MD, D(med)Sci
Message from Constantine A. Stratakis, MD, D(med)Sci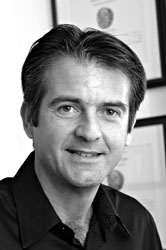 The Division of Intramural Research (DIR) of the Eunice Kennedy Shriver National Institute of Child Health and Human Development (NICHD) comprises a great number of principal investigators in 11 programs and several independent laboratories, over 350 trainees from postbaccalaureate to clinical and postdoctoral fellows, and a staff complement of approximately 1200 people supporting our research mission. Together, we have helped to shape the stories contained on the disc enclosed with this mailing. The account of each investigator's work with his or her team represents countless questions asked in lab meetings or at the bedside, hours developing and, then, testing hypotheses in the lab. Each individual was drawn to science as a way to probe the unknown, to ask new questions, to push for discoveries that may transform human health and our understanding of this world.
In 2010, our new institute director for NICHD was appointed, Dr. Alan Guttmacher. A pediatrician and a geneticist and dedicated leader in academic medicine, Dr. Guttmacher embarked early on a process that will outline the NICHD vision for the future. Please visit the details of this process at http://www.nichd.nih.gov/vision/index.cfm. The DIR along with all other NICHD staff is engaged in this process that is so important for the future of our Institute and the Science we support.
In this year's message, I would also like to emphasize DIR's commitment to training the early investigators of tomorrow, physician-scientists and basic researchers. The past year, our record of achievements reflects brightly the passion and dedication of each intramural scientist who served as a mentor to our trainees. The DIR also supports ACGME-accredited training programs in pediatric and internal medicine endocrinology, and reproduction and infertility in the Bethesda campus; it is also part of a network of other training programs in medical genetics, prenatal care and perinatal medicine, and others, that are supported locally in the Washington metropolitan area, and elsewhere.
Finally, in an era of unprecedented globalization, Science as the ultimate global community enterprise connects researchers across continents with speed and energy. The NICHD DIR is at the center of a global research network in which the dots are connected by our laboratories and their collaborators around the globe, in areas that extent from vaccine development to genomics, from reproduction to regenerative medicine, from the neurosciences and early human development to biophysics and imaging.
We hope that you will find this compendium of our research and other activities helpful; on behalf of the Office of the Scientific Director and the DIR's Office of Education, I want to thank everybody who contributed to this volume, and please do not hesitate to send us your comments or any inquiries to nichdsd@mail.nih.gov.


Constantine A. Stratakis, MD, D(med)Sci