You are here: Home > Molecular Genomics Laboratory
Molecular Genomics Laboratory Core Facility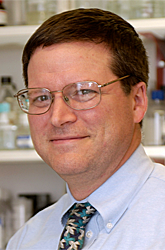 Forbes D. Porter, MD, PhD,

Director

James Iben, PhD,

Senior Fellow

Jonathan Epstein, MS,

Senior Bioinformatician
With the goal of understanding genetic changes and mechanisms underlying human diseases, the Molecular Genomics Laboratory Core Facility supports NICHD investigators by providing deep sequencing.
Next-Generation sequencing and Bioinformatics Support
The Division of Intramural Research has an Applied Biosystmes SOLiD 5500 for "Next Generation sequencing." The Molecular Genomics Laboratory core facility has the ability to support whole-exome sequencing and is developing the capability to perform transcriptome analysis. The core provides bioinformatics expertise to support NICHD sequencing projects. In addition, we developed web-friendly tools to enable investigators to view the nature of observed polymorphisms using industry-standard tools such as the Santa Cruz browser and the Broad Institute's IGV viewer. The core is compliant with Federal CLIA (Clinical Laboratory Improvement Amendment) regulations and can thus perform clinical testing in support of NICHD clinical protocols. The facility also maintains a general clinical protocol that allows NICHD investigators to conduct whole-exome sequencing or whole-genome sequencing on NICHD patients.
Contact
For more information, visit mgl.nichd.nih.gov.