You are here: Home > Message from Constantine A. Stratakis, MD, D(med)Sci
Message from Constantine A. Stratakis, MD, D(med)Sci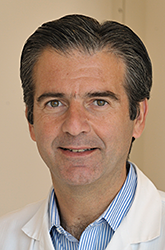 The Division of Intramural Research (DIR) of the Eunice Kennedy Shriver National Institute of Child Health and Human Development (NICHD) comprises over 75 principal investigators and over 300 postbaccalaureate, clinical, and postdoctoral fellows and graduate students, supported by a scientific and administrative staff of more than 1100 people. In 2012, the NICHD DIR, part of the National Institutes of Health (NIH) Intramural Research Program (IRP) has had an extremely productive year. The disc enclosed with this mailing attests to our scientific achievements in 2012.
Examples included the use of photoactivatable fluorescent proteins, which "switch on" in response to ultraviolet light in the context of photoactivated localization microscopy (PALM) to investigate biological processes at the molecular level, permitting analysis of protein trafficking, protein diffusion, and organelle structure/dynamics at nanometer resolution, based on single-molecule detection. Or, the extension of applications of diffusion-tensor magnetic resonance imaging (dt-MRI), to generate detailed, three-dimensional maps of human tissues, including neural pathways in the brain.
This year was a time both to look forward and envision the coming years and to examine—and celebrate—our past, as the institute commemorated its 50th anniversary. On December 5th, 2012, a day-long symposium touched on the milestones in our scientific history and anticipated what knowledge is yet to be uncovered. Our studies of the entire life process were featured in talks by, among others, Drs. Lynn Loriaux, Linda Giudice, William Crowley, Carolyn Westhoff, Nobel Laureates Eric Wieschaus and James Heckman, and former DIR Director Arthur Levine.
Led by NICHD Director Dr. Alan Guttmacher, NICHD culminated a scientific vision process that sets an ambitious agenda for the Institute as a whole in the years to come, focusing on the most important research questions that we face. The seven scientific areas addressed are: developmental biology, developmental origins of health and disease, pregnancy and pregnancy outcomes, reproduction, behavior and cognition, plasticity and rehabilitation, and population dynamics. More is available on http://www.nichd.nih.gov/news/resources/spotlight/Pages/122112-vision.aspx
Meanwhile, in the spring of 2012 a Blue Ribbon Panel (BRP) was charged with examining all facets of the DIR, to help the intramural program focus strategically on its future. Over the fall, members of our community had an opportunity to provide feedback to the BRP. The BRP will provide its report in 2013, and their recommendations will address areas including the innovation and impact of our research, organizational and administrative structures, the balance between clinical and bench science, and training and recruitment. Through an intensive two-day workshop following on the BRP report, we will collectively determine how best to concentrate our resources and ensure that we support the science most suited to our intramural research environment.
In 2012, NICHD adopted the theme "research for a lifetime," which fuels a spirit of inquiry that is pervasive in the DIR and across the NIH IRP. With such talent, both among our most senior researchers and the new investigators who have recently joined us, I look forward to 2013 and to the discoveries that await us in our next decade.


Constantine A. Stratakis, MD D(med)Sci