You are here: Home > About the Image
About the Image
Cover Image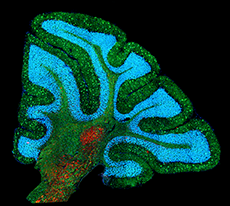 Click image to enlarge.
Contributors: Dr. Ian M. Williams and Dr. Forbes D. Porter, Section on Molecular Dysmorphology, PDEGEN, NICHD
Niemann-Pick disease type C1 (NPC1) is an autosomal recessive neurovisceral lipid storage disorder caused by mutations in the lysosomal membrane protein NPC1. The cerebellum is one of the earliest affected brain regions, with cerebellar ataxia and progressive loss of motor control some of the major symptoms seen in patients. Neuronal degeneration, lysosomal lipid accumulation, inflammation and demyelination are characteristic in this disease, as can be observed in this image of a cerebellar section from the NPC1 mouse model. DAPI staining (cyan) shows the lobular structure of the cerebellum, with the cell dense granular cell layer of the cerebellar cortex highly visible. An SMI32 antibody (red) demonstrates the destruction of Purkinje cells (lack of staining in the cerebellar lobules), with only remnants of axons visible in the deep while matter tracts. Cholera toxin staining in green stains for the glycosphingolipid storage seen in the huge number of activated microglia present in the cortex due to the inflammatory process, while the weaker green staining in the white matter tracts illustrates the breakdown of myelination in this disease.