You are here: Home > Message from Constantine A. Stratakis, MD, D(med)Sci
Message from Constantine A. Stratakis, MD, D(med)Sci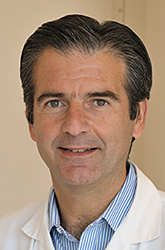 The Division of Intramural Research (DIR) of the Eunice Kennedy Shriver National Institute of Child Health and Human Development (NICHD) comprises over 75 principal investigators and over 300 postbaccalaureate, clinical, and postdoctoral fellows and graduate students, supported by a scientific and administrative staff of more than 1100 people. In 2013, the NICHD DIR, part of the National Institutes of Health (NIH) Intramural Research Program (IRP), has had an extremely productive year. The web posting of our report and disc enclosed with the mailing attest to our scientific achievements in 2013.
This year was not without its challenges, both to scientific colleagues in the extramural research world and to investigators within our intramural program. We all faced difficult choices as we trimmed budgets to painful levels and had to forfeit appearances at scientific meetings, which are the lifeblood of communication about our research hypotheses and discoveries, and especially the occasions when we identify new scientific talent for our research programs. I am reminded how critical the support of trainees is to the future of medicine and science; like prudent farmers, we must always preserve the seed corn, if we are to enjoy future bountiful harvests.
Fiscal issues notwithstanding, in 2013 we began a critical self-examination of our mission, our research foci, and our organizational structure, guided by a Blue Ribbon Panel convened to conduct a comprehensive evaluation of the Division of Intramural Research (DIR). Among the topics addressed are the balance of basic sciences versus translational and clinical science in our DIR, our optimal size, and creation of a nimble framework within which to grow strategically. Building a better organization to allow for flexibility as investigators and projects change will ensure our intellectual and scientific vitality in these lean times. We will continue our tradition of bringing new ideas and new discoveries to the larger research community.
Among the notable—and varied—research explorations of the past year, many of them by new intramural investigators, are: the first Rhesus macaque assisted reproductive technology program here at NIH; the design and implementation of a quadruple pulsed-field gradient (qPFG) diffusion MRI pulse sequence on a whole-body clinical scanner and demonstration of its ability to noninvasively detect restriction-induced microscopic anisotropy in human brain tissue; a finding that explained a specific intracellular localization of dengue fusion, uncovered a new target for development of dengue antivirals, and yielded the first quantitative assays for screening these antivirals and antibodies targeting early stages of dengue virus infection; investigations into novel probes to explore the interaction of membrane proteins with lipids at high resolution, something that has not been done before; applying knowledge gained from developmental studies to artificial reprogramming, which may one day lead to improved strategies for generating specific cell types to be used for disease modeling and regenerative purposes; and the discovery of a surprising role for non-retinal, deep brain photoreception in control of behavior. The list continues. Yet the stories are best told by the investigators themselves, and I invite everyone to delve through the pages and screens that follow, which affirm the commitment of every one of our DIR members to the health of the public, through our scientific and medical research.
Constantine A. Stratakis, MD D(med)Sci