You are here: Home > Zebrafish Core
The NICHD Zebrafish Core; Primary Germ Layer Formation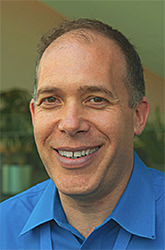 Benjamin Feldman, PhD,

Staff Scientist and Director of the NICHD Zebrafish Core
The NICHD Zebrafish Core was established in May 2012, 2013. With his research on primary germ layer formation, Feldman is also making contributions to the field of Developmental Biology.
The goal of the NICHD Zebrafish Core is to provide to its clients consultation, access to equipment and reagents, and service in the area of zebrafish genetics. The clientele consists of NICHD investigators as well as investigators from other NIH institutes and from outside of the NIH. The oversight committee for the NICHD Zebrafish Core comprises Thomas Sargent (Chair), Harold Burgess, Ajay Chitnis, Igor Dawid, and Brant Weinstein.
NICHD Zebrafish Core
The Core's activities consist of developing its infrastructure, operational model, organizational principles, and specific projects.
Infrastructure:
Much of the Z-Core's infrastructure was largely built from equipment transferred from Feldman's laboratory at NHGRI, such as a −80 freezer, two under-bench −20 freezers, three desktop computers and a printer, an Illumina ECO-RT machine for HRMA, two small incubators, two microinjection rigs, a Kopf microcapillary puller, a Biolane semi-automated machine for whole-mount in situ hybridizations, and two Leica dissection microscopes including three objective lenses, one with fluorescence source various filters plus a digital camera, and one Zeiss compound microscope complete with fluorescence and digital camera and including nine objective lenses. Additional small equipment items purchased from the NICHD budget include a MasterCycler PCR gradient PCR; the Burgess lab loaned a microinjection suite to the Z-Core.
Operational model:
Until recently, the model was only "do it yourself;" implementation of the second component of "pay as you go" began on November 1, 2013. For the "do-it-yourself" model, Feldman prioritized the organization and space flow of the core, such that individuals could come and perform work as needed. Feldman advises, trains and monitors individuals new to working with zebrafish, supplies protocols, common lower-cost reagents, and disposable equipment, maintains equipment, and schedules access.
Organizational principles:
To facilitate "do-it-yourself" use of the Z-Core, Feldman created and maintains a wiki-based web page complete with private domains for lab-specific projects that can only be accessed by the researchers he designates. He established a three-tiered system of access for the purpose of animal protocol management and bio-security of the Central Aquatic Facility (CAF). Level One Access is for neophytes, who are allowed to handle embryos from 0–72 hours post fertilization only, for microinjection training and/or other purposes. Access is permitted only to B139 and B140. Level Two Access adds rooms B134 and B132. For Level Two Access, researchers must be added to Feldman's ASP protocol #12-073. He maintains a collection of about 200 wild-type Ekkwill-strain (EK) fish, provided by Dan Castranova from the Weinstein lab, separated as males and females, occupying two shelves of the photo mod in B134. These breeders are used on a rotational basis by researchers with Level Two or Level Three Access and permits collection of embryos for microinjection and other experiments without any access to the CAF. Level Three Access gives researchers access to the CAF and is reserved for individuals conducting genetic experiments that require adding new fry to the system. In the CAF, Feldman has been assigned one rack module of 144 spaces as well as four shelves of a rack tailored for 0.5 liter tanks (52 spaces), to which he added four DC-96 tanks to maximize genotyping flexibility.
Specific projects:
Feldman has engaged in active research projects with eight NICHD labs, one group from NIEHS, one lab from NIAID, and one lab from the Childrens National Medical Center. The research projects fall into the following broad categories.
Optimizing RNA staining protocols:

To assist Harold Burgess' lab, we set out to optimize procedures for handling and performing whole-mount RNA stains on very small tissue samples of dissected zebrafish brains. We established a protocol that is labor saving, highly sensitive, and with an excellent signal-to-noise output.

Standardizing TALEN-based genome editing for zebrafish gene knockouts:

The Core acquired and generated stocks for a range of DNA constructs for TALEN-based mutagenesis. With consultation and support from the core, alleles were successfully generated and detected in the labs of Forbes Porter, Brant Weinstein, Harold Burgess, Constantine Stratakis, and Thomas Sargent. Additional TALEN-based mutation projects are under way for the labs of Stratakis and Ajay Chitnis (manuscript under review).

Standardizing CRISPR/Cas9-based genome editing for zebrafish gene knockouts:

The Core acquired reagents, generated stocks, and performed feasibility experiments using CRISPR/Cas9 technology, currently our genome-editing method of choice. With the Stratakis lab, we are applying CRISPR/Cas9 disruptions to four genes, and we assisted the Weinstein lab with reagents for several other genes.

Pilot studies for small-molecule screens:

In collaboration with Shamir Tuchman's lab, we are working to identify neuroprotectants in a small-molecule screen. Following a regimen of exposure to ammonia that we developed last year and that reliably produces neurotoxicity, we are now optimizing conditions for performing the experiments in 96-well format so as to screen a library of small molecules. The compound library has been acquired. The preliminary data helped with the successful K01 application by Tuchman and Ljubica Caldovic. Together with a team lead by Christopher Weis, we also determined phenotypes for zebrafish embryos exposed to various flame retardants, data that was presented at the 2013 Society for Toxicology meeting.

Determining overexpression phenotypes of zebrafish orthologs to human candidate-disease genes:

 Our goal is to identify human genes whose misexpression or whose zebrafish ortholog's misexpression leads to alterations in growth or kidney tumor formation. Our client is the Stratakis lab. We identified transient overexpression phenotypes for two genes associated with kidney cancer and one gene associated with acromegaly. Preliminary whole-mount in situ hybridization studies were performed to explore the affected pathways, and we identified a long-term hypertrophy phenotype for one gene. We are planning to build transgenic constructs for the three genes to make more stable overexpression lines. An analogous project has been planned with Stephen Kaler's lab, and a mutant strain of fish for this project was obtained.

Determining transient antsisense phenotypes:

 The aim is to determine the function of various genes via antisense phenotypes for the labs of Stratakis, Alan DeCherney, and Michael Lenardo. We obtained antisense morpholino oligonucleotides targeting two genes implicated in juvenile kidney cancer and determined the phenotypes with the Stratakis lab. For one of these, an RNA-seq project was performed, leading to a set of implicated pathways that are being investigated in follow-up studies. The Lenardo lab tested one morpholino for a gene of interest, but no phenotype was observed. The DeCherney lab used peptide nucleic acids (PNAs) to investigate the function of several small tRNA-like molecules they discovered. Phenotypes were obtained, but given the novelty of this project, several ongoing control experiments are being performed.
Primary germ layer formation
Feldmans' overall research goal in his independent work is to elucidate molecular and cellular events that control the formation of mesoderm and/or mesendoderm in zebrafish, with an eye towards general principles that are relevant to other species, particularly humans. Manuscripts on data relevant to these areas, obtained with several trainees, are in preparation. He is also planning follow-on studies that will be accomplished through some of his own experiments and through collaborations.
Feldman supervised the successful completion and defense of Jamie Brown's (née Boorech) Ph.D. dissertation. Her work will be published in a manuscript on how extraembryonic signals drive mesoderm patterning. He has also been engaged in extensive library research and writing for a chapter in the upcoming new edition of Principles of Developmental Genetics and he has been working with former trainee Justin Costa to revise, for re-submission, a manuscript on RhoGEF functions during gastrulation.
Additional Funding
There is no outside funding yet; however, a fee-for-use system has been implemented, beginning in November, 2013.
The Bench-to-Bedside Application "Mechanisms of motor neuron disease associated with copper transport defects" was made by Stephen Kaler (NICHD); it included a request for dedicated funds for the NICHD Zebrafish Core.
Publications
Roessler E, Hu P, Hong SK, Srivastava K, Carrington B, Sood R, Petrykowska H, Elnitski L, Ribeiro LA, Richieri-Costa A, Feldman B, Odenwald WF, Muenke M. Unique alterations of an ultraconserved non-coding element in the 3UTR of ZIC2 in holoprosencephaly. PLoS One 2012;7:e39026.
Collaborators
Harold Burgess, PhD,

Program in Genomics of Differentiation, NICHD, Bethesda, MD

Ljubica Caldovic, PhD,

Center for Genetic Medicine Research, Children's National Medical Center, Washington, DC

Ajay Chitnis, MBBS, PhD,

Program in Genomics of Differentiation, NICHD, Bethesda, MD

Alan H. DeCherney, MD,

Program in Reproductive and Adult Endocrinology, NICHD, Bethesda, MD

Stephen Kaler, MD,

Molecular Medicine Program, NICHD, Bethesda, MD

Michael Lenardo, MD,

Laboratory of Immunology, NIAID, Bethesda, MD

Maximilian Muenke, MD,

Medical Genetics Branch, NHGRI, Bethesda, MD

Forbes D. Porter, MD, PhD,

Program on Developmental Endocrinology and Genetics, NICHD, Bethesda, MD

Thomas Sargent, PhD,

Program in Genomics of Differentiation, NICHD, Bethesda, MD

Constantine Stratakis, MD, DMedSci,

Program on Developmental Endocrinology and Genetics, NICHD, Bethesda, MD

Shamir Tuchman, MD,

Childrens National Medical Center, Washington, DC

Brant Weinstein, PhD,

Program in Genomics of Differentiation, NICHD, Bethesda, MD

Christopher Weis, PhD, DABT,

National Toxicology Program, NIEHS, Bethesda, MD
Contact
For more information, email bfeldman@mail.nih.gov or visit zcore.nichd.nih.gov.