You are here: Home > About the Images
About the Images
Cover Image
Click image to enlarge.
Contributors: Young-Jun Kim and Mihaela Serpe, Unit on Cellular Communication, PCRM
Drosophila Neto is localized at postsynaptic densities and is essential for the clustering of ionotropic glutamate receptors at the neuromuscular junction. Shown here is an immunofluorescence analysis of wild-type larval body wall muscles stained with antibodies directed against Neto (green); neuronal surfaces and striated muscle are visualized using antibodies against HRP (red) and myosin heavy chain (blue), respectively. Neto is a novel protein that colocalizes with the glutamate receptor subunits and functions as an essential component of the receptor complexes. Within this complex, Neto and the glutamate receptors depend on each other to traffic and to form clusters at the neuromuscular junction synapses.
CD image (appears on the Annual Report DVD only)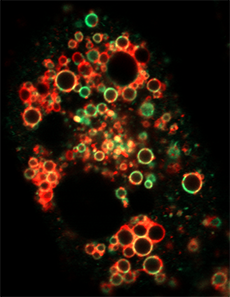 Click image to enlarge.
Contributors: Marko Jović and Tamás Balla, Section on Molecular Signal Transduction, PDN
Segregation of lysosomal proteins LIMP-2 (red) and LAMP-1 (green) into lateral subdomains in the limiting membranes of enlarged late endosomes in cells depleted in the lipid kinase, PI4KIIa.