You are here: Home > Section on Reproductive Endocrinology
Investigation of Adrenal Gland Disorders and Disorders of Female Reproduction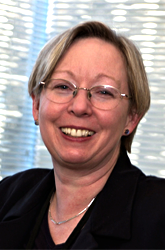 Lynnette Nieman, MD, Head, Section on Reproductive Endocrinology
Smita Abraham, MD, Staff Clinician
Nicola M. Neary, MD, Clinical Fellow
Mahtab Niyyati, MD, Clinical Fellow
Susmeeta T. Sharma, MD, Clinical Fellow
Qingxiang Wei, BS, Technician
Aleta Hong, BA, Postbaccalaureate Trainee
Ozan Suer, BS, Clinical Research Training Program Student
Over the past decade, we have made important contributions to the differential diagnosis of hypercortisolism. We established the corticotropin releasing hormone (CRH) test and inferior petrosal sinus sampling (IPS) as major diagnostic tools for the identification of pituitary adenomas causing Cushing's syndrome. However, the detection of Cushing's syndrome remains difficult, as does the localization of ectopic ACTH-producing tumors. We also evaluate the pathophysiology and potential new treatments for fibroids in women. This reproductive disorder is common, poorly understood, and lacks optimal medical treatments.
Adrenal gland disorders
Localization of ectopic ACTH–secreting tumors. Imaging studies are the cornerstone for tumor localization in patients with Cushing's syndrome caused by ectopic adrenocorticotropin hormone (ACTH) secretion (EAS). Despite routine use of computed tomography (CT) and magnetic resonance imaging (MRI), tumors remain occult in up to 50% of patients with EAS. Up to half of the EAS patients do not respond to medical therapy of hypercortisolism and must undergo bilateral adrenalectomy with life-long replacement therapy. Thus, there is a need for improved imaging techniques to identify ACTH–secreting tumors. Nuclear medicine techniques permit in vivo imaging of pathophysiological processes. In a recent prospective study (2), we evaluated the utility of [111In-DTPA-d-Phe]pentetreotide scintigraphy [octreotide (OCT)] imaging at 6 mCi [low OCT (LOCT)] and 18 mCi [high OCT (HOCT)], [18F]fluorodeoxyglucose (FDG)-positron emission tomography (PET) and [18F]l-3,4-dihydroxyphenylalanine (F-DOPA)-PET scans, computed tomography (CT), and magnetic resonance imaging (MRI). Forty-one subjects participated, 30 (17 female) with resected EAS tumors and 11 (three female) with occult EAS, based on inferior petrosal sinus sampling results and imaging studies. Intervention included CT and MRI of neck, chest, abdomen, LOCT (with or without HOCT) and FDG- or F-DOPA-PET without CT every 6–12 months. Tumor identification was the main outcome measure. Eighteen patients had tumor resected on the first visit; otherwise, surgery occurred between 9 and 99 months later. Tumor sizes ranged from 0.8 to 8.0 cm; 83% were intrathoracic. CT, MRI, LOCT, HOCT, FDG-PET, and F-DOPA-PET had sensitivities per patient of 93% [95% confidence interval (CI) = 79–98%], 90% (95% CI = 74–96%), 57% (95% CI = 39–73%), 50% (95% CI = 25–75%), 64% (95% CI = 35–85%), and 55% (95% CI = 28–79%) and positive predictive values (PPV) per lesion of 66, 74, 79, 89, 53, and 100%, respectively. LOCT and PET detected only lesions seen by CT/MRI; abnormal LOCT or F-DOPA-PET improved PPV of CT/MRI. By modality, the fraction of patients with one or more false-positive findings was 50% by CT, 31% by MRI, 18% by L/HOCT, and 18% by FDG-PET. Eight occult EAS patients had follow-ups after 9 to198 months; others had none. We conclude that high sensitivity and PPV suggest use of thoracic CT/MRI plus LOCT scans for initial imaging, with lesion confirmation by two modalities.
Evaluation of the utility of post-operative basal cortisol and CRH testing for the prediction of recurrent Cushing's disease. Selective adenomectomy via transsphenoidal surgery induces remission of Cushing's disease (CD) in most patients. Although an undetectable postoperative serum cortisol (<2 μg/dl) has been advocated as an index of remission, there is no consensus on predictors of recurrence. We hypothesized that patients with subnormal cortisol (2–4.9 μg/dl) might achieve long-term remission and that postoperative responses to CRH might predict recurrence. We prospectively studied 14 CD patients with initial remission after adenomectomy or hemihypophysectomy. Long-term recurrence (n = 39) or remission (n = 293) was assigned by laboratory results, glucocorticoid dependence, or patient survey at a mean of 10.6 yr after surgery. Postoperatively, morning cortisol was measured on days 3–5, and cortisol and ACTH responses to ovine CRH were assessed around day 10. Follow-up occurred between 1 and 23 years. Fewer patients achieved a cortisol nadir below 2 μg/dl (87%) than below 5 μg/dl (98%), yet recurrence rates were similar (<2 μg/dl, 9.5%; <5 μg/dl, 10.4%; 2–4.9 μg/dl, 20%; not significant). CRH-stimulated cortisol (P < 0.002) and ACTH (P = 0.04) values were higher for the recurrence than the remission group. However, basal or stimulated ACTH or serum or urine cortisol cutoff values did not predict all those who later experienced a recurrence. Thus, a postoperative cortisol below 2 μg/dl predicts long-term remission after transsphenoidal surgery in CD. Remission in those with intermediate day 3–5 postoperative cortisol values (2–4.9 μg/dl) suggests that these patients do not require immediate reoperation. However, because no single cortisol cutoff value excludes all patients with recurrence, all require long-term clinical follow-up (2).
Disorders of female reproduction
Progesterone is critical for secretory endometrial differentiation in women, but its downstream mediators are poorly understood. We investigated endometrial expression of Indian Hedgehog (IHH) and genes involved in its signaling [smoothened (SMO), patched-1 (PTCH1), glioma-associated oncogene homologs GLI1 and GLI2 during the menstrual cycle and the effects of the selective progesterone receptor modulator CDB-2914 on its expression (3). We compared 34 normally cycling volunteers and 17 women with symptomatic fibroids who received CDB-2914 or placebo. We evaluated IHH, SMO, PTCH1, GLI1, and GLI2 by in situ hybridization and/or RT-PCR, and IHH, GLI1, and PTCH1 immunohistochemistry was obtained. RT-PCR showed expression of IHH, SMO, PTCH1, GLI1, and GLI2, with significant increases in IHH (5.2-fold) and GLI1 (3.6-fold) in endometrium exposed to CDB-2914 compared with placebo. In situ hybridization showed IHH mRNA expression in glands and stroma that was stronger in secretory samples. Among volunteers, IHH and GLI1 immunohistochemistry scores were higher in the secretory than proliferative phase in the nuclei and cytoplasm of glands and stroma (P=0.0002–0.04). Compared with follicular-phase controls, women exposed to CDB-2914 showed increased IHH expression in all compartments except stromal cytoplasm (P=0.0199–0.0423); GLI1 was up-regulated in glandular nuclei and cytoplasm compared with both volunteers and women receiving placebo (P≤0.0416). The temporal increase in endometrial IHH and GLI1 expression during the secretory phase, and their modulation by CDB-2914, suggests progestin regulation and a potential role in endometrial differentiation and implantation.
We recently demonstrated lower levels of progesterone-dependent markers of implantation in the luteal-phase endometrium of women with endometriosis than in that of healthy volunteers. Because IHH appeared to be progesterone-dependent, as suggested in the study described above, we studied its expression in women with endometriosis (4). Nuclear and cytoplasmic endometrial expression of Indian hedgehog increased from the late proliferative to mid and late secretory phases in 26 healthy volunteers compared with 30 women with endometriosis. The abnormal expression of Indian hedgehog protein in women with endometriosis suggests resistance to progesterone action.
We also evaluated the efficacy and tolerability of CDB-2914 (Ulipristal, CDB) for the treatment of symptomatic fibroids (5). Premenopausal women with symptomatic uterine fibroids participated in this randomized, placebo-controlled double-blind clinical trial. Each received once-daily oral CDB (10 or 20 mg) or placebo (PLC) for 12 weeks (treatment 1). A second 3-month treatment with CDB (treatment 2) was offered. A computer-generated blocked randomization was used. Magnetic resonance imaging (MRI)–determined total fibroid volume (TFV) change was the primary outcome; amenorrhea and quality of life (QOL) were secondary end points. Treatment 1 TFV increased 7% in the PLC group, but decreased 17% and 24% in the CDB10 and CDB20 groups. The TFV decreased further in treatment 2 (−11%). Amenorrhea occurred in 20/26 women taking CDB and in none on PLC. Ovulation resumed after CDB. Hemoglobin improved only with CDB (11.9 ± 1.5 to 12.9 ± 1.0 g/dL) as did the Fibroid QOL Questionnaire symptom severity, energy/mood, and concern subscores, and overall QOL scores. The CDB was well tolerated, with no serious adverse events. Adverse events were unchanged during treatments. Thus, administration of CDB-2914 for 3–6 months controls bleeding, reduces fibroid size, and improves QOL.
Additional Funding
Some of these projects received external funding from two CRADAs executed with HRA-Pharma, Paris France, under ongoing cooperative research and development agreements.
Part of this work received funding from a Bench-to-Bedside award (2010).
Publications
Zemskova MS, Gundabolu B, Sinaii N, Chen CC, Carrasquillo JA, Whatley M, Chowdhury I, Gharib AM, Nieman LK. Utility of various functional and anatomic imaging modalities for detection of ectopic adrenocorticotropin-secreting tumors. J Clin Endocrinol Metab 2010;95:1207-1219.
Lindsay JR, Oldfield EH, Stratakis CA, Nieman LK. The post-operative basal cortisol and CRH tests for prediction of long-term remission from Cushing's disease after transsphenoidal surgery. J Clin Endocrinol Metab 2011;96:2057-2064.
Wei Q, Levens ED, Stefansson L, Nieman LK. Indian hedgehog and its targets in human endometrium: Menstrual cycle expression and response to CDB-2914. J Clin Endocrinol Metab 2010;95:5330-5337.
Smith K, Alnifaidy R, Wei Q, Nieman LK. Endometrial Indian Hedgehog expression is decreased in women with endometriosis. Fertil Steril 2011;95:2738-41.e1-3.
Nieman LK, Blocker W, Nansel T, Mahoney S, Reynolds J, Blithe D, Wesley R, Armstrong A. Efficacy and tolerability of CDB-2914 treatment for symptomatic uterine fibroids: a randomized, double-blind, placebo-controlled, phase IIb study. Fertil Steril 2011;95:767-772.
Collaborators
Alicia Armstrong, MD, Program in Reproductive and Adult Endocrinology, NICHD, Bethesda, MD
Diana Blithe, PhD, Contraception and Reproductive Health Branch, NICHD, Bethesda, MD
Jorge A. Carrasquillo, MD, Memorial Sloan-Kettering Cancer Center, New York, NY
Richard Chang, MD, Diagnostic Radiology, NIH Clinical Center, Bethesda, MD
Clara Chen, MD, Nuclear Medicine Department, NIH Clinical Center, Bethesda, MD
Ahmed Gharib, MD, Office of the Scientific Director, NHLBI, Bethesda, MD
Maria Merino, MD, Laboratory of Pathology, NCI, Bethesda, MD
Tonja Nansel, MD, Prevention Research Branch, NICHD, Bethesda, MD
Edward H. Oldfield, MD, Surgical Neurology Branch, NINDS, Bethesda, MD
Karel Pacak, MD, PhD, Program in Reproductive and Adult Endocrinology, NICHD, Bethesda, MD
Nicholas Patronas, MD, Diagnostic Radiology, NIH Clinical Center, Bethesda, MD
James C. Reynolds, MD, Nuclear Medicine Department, NIH Clinical Center, Bethesda, MD
Domenica Rubino, MD, George Washington University Weight Management Program (GWUWMP), Washington, DC
Ninet Sinaii, MPH PhD, Biostatistics and Clinical Epidemiology Service, NIH Clinical Center, Bethesda, MD
Bob Welsey, PhD, Biostatistics and Clinical Epidemiology Service, NIH Clinical Center, Bethesda, MD
Contact
For more information, email niemanl@mail.nih.gov.