You are here: Home > Unit on Reproductive and Regenerative Medicine
Endometrial and Reproductive Stem Cell Biology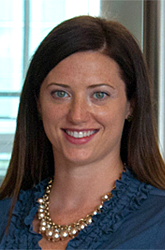 Erin F. Wolff, MD, Head, Unit on Reproductive and Regenerative Medicine
Lauren Libfraind, BA, Predoctoral Fellow
The Unit on Reproductive and Regenerative Medicine conducts translational research on disorders affecting reproduction. Particular areas of interest are endometrial stem cells and conditions affecting the endometrium, which can result in a wide variety of gynecologic problems such as scarring of the uterine cavity (Asherman's syndrome), abnormal uterine bleeding, endometriosis, infertility due to implantation failures, and recurrent pregnancy loss.
Current Research
We focus on characterizing endometrial stem-cell function, possible therapeutic applications of endometrial stem cells, sources of endometrial stem cells, and cellular therapies to correct endometrial related conditions. The model systems we use include: (i) patients at the NIH who have undergone hematopoietic stem-cell transplantation for non-malignant hematologic conditions (e.g., sickle cell disease); (ii) the autologous Rhesus macaque peripheral blood stem-cell transplant model created by our collaborators in the Tisdale Lab. We are using these models to study endometrial engraftment from bone marrow–derived cells and the endometrial effects of bone marrow–derived cells residing in the uterus.
In addition, we are studying a rare familial syndrome with a reproductive phenotype due to a germline mutation in the gene HRPT2. Patients with this disorder suffer from life-threatening heavy menstrual bleeding (often requiring hysterectomy at young ages), recurrent pregnancy loss, and benign and malignant uterine tumors (frequently mesodermal lineages). We are using endometrial cells from patients with this condition to generate reproductive disease–specific, induced pluripotent stem cells with which to study reproductive disorders.
Publications
Santamaria X, Massasa E, Feng Y, Wolff EF, Taylor HS. Derivation of insulin producing cells from human endometrial stromal stem cells and use in the treatment of murine diabetes. Mol Ther 2011;doi:10.1038/mt.2011.173.
Wolff E, Pal L, Altun T, Madankumar R, Freeman R, Amin H, Harman M, Santoro N, Taylor HS. Skin wrinkles and rigidity in early postmenopausal women vary by race/ethnicity: baseline characteristics of the skin ancillary study of the Keeps Trial. Fertil Steril 2011;95:658-662.
Wolff EF, Gao XB, Yao KV, Du H, Andrews ZB, Elsworth JD, Taylor HS. Endometrial stem cell transplantation restores dopamine production in a Parkinson's disease model. J Cell Mol Med 2011;15:747-755.
Wolff EF, Hughes M, Merino MJ, Reynolds JC, Davis JL, Cochran CS, Celi FS. Multi-modal management of a follicular variant form of thyroid cancer arising from an ovarian teratoma. Thyroid 2010;20:981-987.
Wolff EF, Wolff AB, Du H, Taylor HS. Demonstration of multipotent stem cells in the adult human endometrium by in vitro chondrogenesis. Reprod Sci 2007;14:524-533.
Collaborators
Robert E. Donahue, VMD, Hematology Branch, NHLBI, Bethesda, MD
Hugh S. Taylor, MD, Yale School of Medicine, New Haven, CT
John Tisdale, MD, Molecular and Clinical Hematology Branch, NHLBI, Bethesda, MD
Contact
For more information, email wolffe@mail.nih.gov.