Evaluation of Hypothalamic and Pituitary Disorders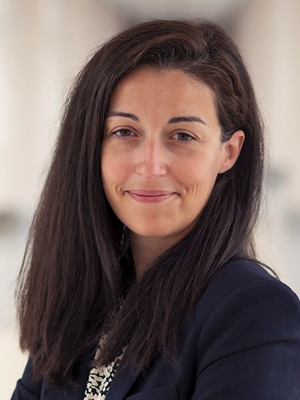 Christina Tatsi, MD, MHSc, PhD, Head, Unit on Hypothalamic and Pituitary Disorders
Meg Keil, CRNP, Nurse Practitioner
Lola Saidkhodjaeva, RN, BSN, CMSRN, Research Nurse
Samah Agabein, MBBS, CCRC, Research Coordinator
Matthew Nguyen, BA, Postbaccalaureate Fellow
Jessica Weinberg, BA, Postbaccalaureate Fellow
Meghan Waters, BA, Lab Technician
The goal of our research is to phenotype patients with rare hypothalamic and pituitary disorders and to identify biomarkers for disease diagnosis and of presentation and progression. We are also continuing to investigate the genetic mechanisms underlying pituitary tumorigenesis, which, along with novel biomarkers, will ultimately provide new therapeutic targets.
Phenotyping of patients with hypothalamic and pituitary disorders
Hypothalamic and pituitary tumors are rare disorders, which may present with hormone excess or hormone deficiencies. Hormone dysregulation or mass effects may lead to various complications. For example, patients with hypercortisolemia manifest with, among other, growth stagnation, obesity, and hyperglycemia. Under the protocol 97-CH-0076, we are evaluating patients with pituitary disorders/adenomas/tumors. We are collecting clinical and biochemical data, as well as research biospecimens, to advance our knowledge of the genetic etiology, pathophysiology, presentation, diagnosis, and treatment of pituitary disorders. Previous results from this protocol have assisted in evaluation and management of these patients.
Molecular genetics of pituitary disorders
We continue our investigation of the genetic mechanisms of pituitary tumorigenesis. Previously, in collaboration with Constantine Stratakis, we reported that chromosomal aberrations may lead to more aggressive behavior of pituitary tumors. We are currently offering genetic testing for all patients with proven pituitary tumors, in a collaboration with the National Institute of Allergy and Infectious Diseases (NIAID). Additionally, we continue to pursue studies to understand novel candidate gene function and effect in pituitary tumors.
Survivors of pediatric Cushing's disease
Meg Keil is leading a research protocol on the long-term effects of pediatric hypercortisolemia (19-CH-0051) to identify residual clinical and biochemical findings after cure of pediatric Cushing's syndrome. Patients are eligible for the protocol if they were diagnosed with ACTH–secreting pituitary adenomas (Cushing's disease) before the age of 21 and are in biochemical remission. Patients are studied at five-year intervals until 20 years after cure. Anthropometric, clinical, biochemical, imaging, and other data are collected.
Immunologic effects of hypercortisolemia
Glucocorticoids have many effects on the immune system, which makes them one of the most commonly prescribed medications. Patients with ACTH–secreting pituitary adenomas present with endogenous hypercortisolemia and are a model for the evaluation of the immune effects of glucocorticoids, especially in the pediatric population, where other confounding co-existing morbidities are rare. We started our investigation on the immune effects of hypercortisolemia by looking at the complete blood count (CBC) of these patients, and we reported that simple inflammatory biomarkers can be used for the diagnosis of these patients. We further collaborated with Sergio Rosenzweig's group to describe specific cytokine patterns that may be involved in the pathophysiology of glucocorticoid-related immunosuppression. Luis Franco's group is currently conducting a study to further characterize the immune phenotype of our patients.
Therapeutic approaches for patients with rare sellar/suprasellar disorders
Gigantism is a condition characterized by excessive growth hormone (GH) secretion, which is commonly caused by GH–secreting pituitary adenomas, or by other rare disorders of dysregulated GH secretion. Although surgery remains the first line of treatment for these patients, up to 50% of patients will not achieve remission and will require further medical treatment or radiation. Currently, all therapeutic options we have for children derive from studies in adults and selected case reports. Under the protocol 19-CH-0071, we study the safety and efficacy of pegvisomant, a GH–receptor antagonist, in children and adolescents with growth hormone excess, a protocol that is open to enrolment.
Publications
Wurth R, Rescigno M, Flippo C, Stratakis CA, Tatsi C. Inflammatory biomarkers in the evaluation of pediatric endogenous Cushing syndrome. Eur J Endocrinol 2022 186(4):503–510.
Tatsi C, Bompou ME, Flippo C, Keil M, Chittiboina P, Stratakis CA. Paediatric patients with Cushing disease and negative pituitary MRI have a higher risk of nonremission after transsphenoidal surgery. Clin Endocrinol (Oxf) 2021 95:856–862.
Tatsi C, Saidkhodjaeva L, Flippo C, Stratakis CA. Subclinical hemorrhage of ACTH-secreting pituitary adenomas in children and adolescents changes their biochemical profile. J Endocr Soc 2022 6:bvac080.
Collaborators
Prashant Chittiboina, MD, Neurosurgery Unit for Pituitary and Inheritable Diseases, NINDS, Bethesda, MD
Ryan Dale, PhD, Bioinformatics and Scientific Programming Core, NICHD, Bethesda, MD
Luis M. Franco, MD, Functional Immunogenomics Section, NIAMS, Bethesda, MD
Jamie Morton, PhD, Biostatistics and Bioinformatics Branch, NICHD, Bethesda, MD
Sergio D. Rosenzweig, MD, PhD, Department of Laboratory Medicine, NIH Clinical Center, Bethesda, MD
Constantine A. Stratakis, MD, D(med)Sci, Molecular Genomics Core, NICHD, Bethesda, MD
Magdalena A. Walkiewicz-Yvon, PhD, Division of Intramural Research, NIAID, Bethesda, MD
Contact
For more information, email christina.tatsi3@nih.gov or visit https://www.nichd.nih.gov/research/atNICHD/Investigators/tatsi.