The Microscopy and Imaging Core Facility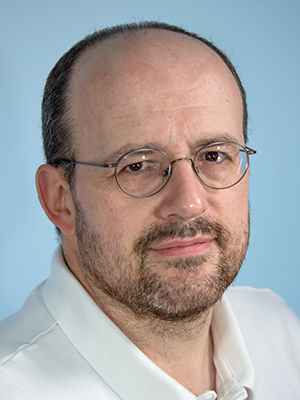 Vincent Schram, PhD, Staff Scientist
Louis (Chip) Dye, BS, Staff Scientist
Lynne A. Holtzclaw, BS, Senior Research Assistant (Biologist)
The mission of the NICHD Microscopy and Imaging Core (MIC) is to provide service in three different areas: 1) wide-field and confocal light microscopy, 2) transmission electron microscopy, and 3) sample preparation for light and electron microscopy. Following the retirement of James Russell in April 2016, Vincent Schram now serves as executive director under the management of Chris McBain. Tamás Balla acts as scientific advisor for the facility.
Located on the ground floor of The Porter Neuroscience Research Center, Building 35A, on the NIH campus, the facility is accessible 24/7, and users can reserve time on each microscope by using an online calendar. Vincent Schram, the point person for light and confocal microscopy, works in close collaboration with his NINDS counterpart, Carolyn Smith, who manages the Light Imaging Facility, also located in the Porter Neuroscience building. This mode of operation is highly beneficial as it provides extended support hours, wider expertise, and access to more equipment than each Institute alone could afford.
Mode of operation
The MIC is available free of charge to all NICHD investigators and, resources permitting, to anyone within the Porter Neuroscience building. For every new project, MIC staff meet with the Principal Investigator and postdoctoral scientists involved in the study to discuss the background and goals of the project and to define its most appropriate techniques and instrumentation.
For light microscopy, sample preparation and image acquisition are typically handled by users, with support and training provided by Lynne Holtzclaw (specimen preparation) and Dr. Schram (imaging and data analysis). For electron microscopy (EM), most of the sample processing and imaging is done in-house by Chip Dye and Ms. Holtzclaw to ensure consistent and reproducible conditions.
Light microscopy
Three modern laser confocal microscopes are available in the facility: a Zeiss LSM 780 equipped for spectral imaging of live and fixed specimens that require high sensitivity and resolution; a Zeiss 710 inverted for high-resolution confocal imaging; and a hybrid Nikon spinning disk/TIRF (total internal reflection fluorescence) microscope with super-resolution capabilities. A modern two-photon platform, slated for delivery in January 2017, will permit imaging of thick tissue sections, live animals, and large cleared specimens. We also have access to the NINDS Zeiss 880, a unique instrument equipped with a super-resolution ("Airy") detector, which has been used with great success for studies of neuronal spines, neuro-muscular junctions, and other sub-cellular organelles. In addition to these high-end instruments, three wide-field fluorescence microscopes and a stereo microscope are available. Incubation is fully supported on all confocals with temperature, CO2, and humidity control.
Each user receives counseling on specimen preparation and staining, and, when necessary, one-on-one coaching in sample preparation is provided in the facility's lab space. Once their specimen is ready, users receive an initial training session on the light microscope required for the project, followed by periodic refreshers at the user's request or when the staff feel that the equipment is not being used properly.
For data analysis, the MIC provides training and support on several image-processing options: Zeiss Zen, Nikon Elements, Imaris, Metamorph, and ImageJ. The programs are available in the facility on high-end workstations. When required, custom solutions are developed to fill particular needs, such as large-volume image analysis.
Electron microscopy
Typically, all EM processing (fixation, embedding, sectioning, and staining) is done in-house by Mr. Dye and Ms. Holtzclaw. The MIC maintains and operates a fully equipped EM laboratory with an LKB Pyramitome, a Leica CM3050-S cryostat, and a Reichert Ultracut-E ultramicrotome. A new Leica EM UC7 ultra-microtome with cryo-sectioning capabilities was recently purchased to extend cryo-EM capabilities. Cryo-EM preserves a high level of immuno-reactivity and permits imaging of specimens in a near-native state. The technique has been requested by several investigators, and the facility is actively moving onto this field. EM imaging is conducted mostly by Mr. Dye on a JEOL TEM 1400 series electron microscope, a cryo-EM–compatible instrument.
Additional support and capabilities
Overseen by Ms. Holtzclaw, the MIC provides additional resources such as tissue-culture and preparative space, vibratomes for live and fixed tissues, and a perfusion-fixation platform. On-site equipment demonstrations from vendors are held frequently and provide a valuable platform for the larger NIH community to evaluate new products and instrumentation in the field of microscopy. The MIC also provides a yearly training course offering an integrated approach, from sample preparation to imaging and data analysis. This week-long event is held each May. The staff also volunteer time to teach sample preparation and image analysis in NIH's FAES (Foundation for Advanced Education in the Sciences) Biotech 35 course.
Facility usage
Since the facility moved from building 49 to the new part of the Porter Neuroscience building, usage has increased significantly and continues to rise each quarter, to some extent because tenants of building 35 take advantage of the facility's open-door policy (mostly NINDS investigators), but the Institute's own usage is also rising. As of November 2016, all three confocal instruments (the Zeiss 710 and 780, and the Nikon spinning disk) have been used on average 40 hours per week over the past 12 months.
Since its inception in 2004, the work carried out in the MIC has been included in more than 180 publications. For a complete list, go to: https://science.nichd.nih.gov/confluence/display/mic/Publications
Collaborators
Carolyn L. Smith, PhD, Developmental Biology Section, NINDS, Bethesda, MD
Contact
For more information, email schramv@mail.nih.gov or visit http://mic.nichd.nih.gov.